To find the most relevant journal, please insert appropriate keyword to facilitate search.
---
Search Results: cdar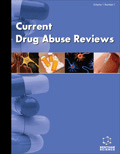 Current Drug Research Reviews
ISSN: (Online)
eISSN: 1874-4745 (Print)
Current Drug Abuse Reviews aims to publish the highest quality reviews, meta-analyses and drug clinical trial studies on all latest advances on alcohol and drug abuse and addiction. Book reviews are also published. The Journal will further comprise an agenda listing relevant meetings and conferences that will take place in near future, and advertisement.
---