To find the most relevant journal, please insert appropriate keyword to facilitate search.
---
Search Results: cee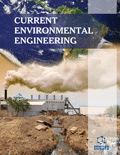 Current Environmental Engineering
ISSN: 2212-7178 (Print)
eISSN: 2212-7186 (Online)
Current Environmental Engineering is a peer-reviewed journal that publishes expert reviews, research articles and topical issues on all the major advances in environmental engineering. Current Environmental Engineering covers the applications of environmental engineering and scientific discoveries on waste water management and control, water, air and soil pollution, human habitation, water disposal, recycling, radiation protection, industrial hygiene, environmental law and policies, public health, and environmental sustainability. The journal is of particular interest for professionals, academics, researchers and policy makers, working in the field of environmental engineering.
---