To find the most relevant journal, please insert appropriate keyword to facilitate search.
---
Search Results: cir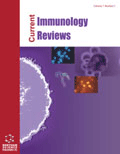 Current Immunology Reviews
ISSN: 1573-3955 (Print)
eISSN: 1875-631X (Online)
Current Immunology Reviews publishes frontier reviews, drug clinical trial studies and guest edited thematic issues written by leaders in the field covering a range of current topics on all the latest advances in clinical immunology. The journal's aim is to publish the highest quality review articles dedicated to clinical research in the field. The journal is essential reading for all researchers and clinicians in clinical immunology.
---