To find the most relevant journal, please insert appropriate keyword to facilitate search.
---
Search Results: mc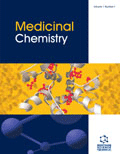 Medicinal Chemistry
ISSN: 1573-4064 (Print)
eISSN: 1875-6638 (Online)
Aims & Scope Medicinal Chemistry aims to cover all the latest outstanding developments in medicinal chemistry and rational drug design. The journal publishes original papers covering recent research and developments in the field. Articles are published rapidly by taking full advantage of internet technology for both the submission and peer review of manuscripts. Medicinal Chemistry is an essential journal for all involved in drug design and discovery.
---