To find the most relevant journal, please insert appropriate keyword to facilitate search.
---
Search Results: tominfoj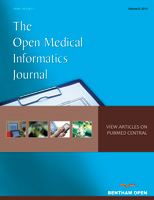 The Open Medical Informatics Journal
ISSN: 1874-4311 (Online)

The Open Medical Informatics Journal is an Open Access online journal, which publishes research articles, reviews, letters and guest edited single topic in all important areas of medical informatics. The scope of the journal covers all areas of medical informatics including: Hospital information systems, hospital and physician patient registration systems, Image & signal processing, patient facing systems, Information systems, transaction processing systems, electronic medical record systems , algorithmic / statistical methods, protocol development, mobile & wireless health, artificial intelligence, document handling systems, systems integration, organizational, economic, social, clinical impact, cost-benefit aspects of IT applications in health care.
---