To find the most relevant journal, please insert appropriate keyword to facilitate search.
---
Search Results: tonursj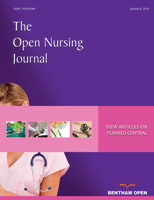 The Open Nursing Journal
ISSN: 1874-4346

The Open Nursing Journal is an Open Access online journal, which publishes research articles, reviews, letters and guest edited thematic issues in all areas of nursing. The Open Nursing Journal, a peer-reviewed journal, is an important and reliable source of current information on developments in the field. The emphasis will be on publishing quality papers rapidly and freely available to researchers worldwide. We welcome papers related to nursing and midwifery, with specific relevance to health care practice, policy and research. We publish under the following themes: Nursing and Midwifery practice Education Research methodology Evidence based practice New role in practice Systematic reviews Case studies Ethical and professional issues Management in health care Sustainability in health and health care provision All authors should make clear how the implications of their paper for nursing, midwifery and health care practice. They should also clearly identify the 'take home message' from their paper.
---