To find the most relevant journal, please insert appropriate keyword to facilitate search.
---
Search Results: topainj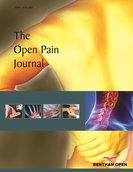 The Open Pain Journal
ISSN: 1876-3863

The Open Pain Journal is an open access online journal, which publishes original full length, reviews, short research articles (letters) and guest edited single topic issues in all important areas of pain research including pain medicine, genetics, neurology, internal medicine, clinical pharmacology, child neuropediatrics, anesthesiology, rheumatology, otology, dentistry, neurotraumatology, neurosurgery, meta analyses of drugs for pain management and clinical studies. The Open Pain Journal, a peer reviewed journal, is an important and reliable source of current information on recent developments in the field. The emphasis will be on publishing quality articles rapidly and making them freely available worldwide.
---