To find the most relevant journal, please insert appropriate keyword to facilitate search.
---
Search Results: tossj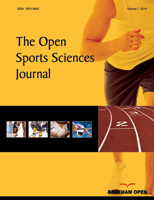 The Open Sports Sciences Journal
ISSN: 1875-399X

The Open Sports Sciences Journal is an Open Access online journal which publishes research articles, reviews, letters, and guest edited single topic issues in all areas of sports sciences, such as anthropology, biochemistry, biomechanics, epidemiology, growth and motor development, motor control and learning, measurement and evaluation, physiology, pedagogy, psychology, history, philosophy or sociology. The emphasis of the Journal is on the human sciences, broadly defined, and applied to physical activity, sport and exercise. Topics covered also include design of analysis systems, sports equipment, research into training, and modeling and predicting performance. The Open Sports Sciences Journal, a peer reviewed journal, is an important and reliable source of current information on developments in the field. The emphasis will be on publishing quality articles rapidly and freely available worldwide.
---