To find the most relevant journal, please insert appropriate keyword to facilitate search.
---
Search Results: CAPS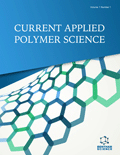 Current Applied Polymer Science
ISSN: 2452-2716 (Print)
eISSN: 2452-2724 (Online)
Current Applied Polymer Science publishes expert review articles and thematic issues in all applied aspects of polymer science including composites, nano polymeric composites and molecular composites, It includes biodegradable polymers, polysaccharides and other natural polymers, membranes, energy conversion and storage, conducting polymers, biomedical implants, and synthetic polymers. It will cover miscible and compatible polymer blends, amorphous and semi-crystallline polymer blends, rubber toughened and elastomeric blends, self-reinforced blends, interpenetrating networks and all other aspects of polymer science as applied to various fields of pharmaceuticals, industrial manufacture, health, agriculture, new materials and other areas.
---