To find the most relevant journal, please insert appropriate keyword to facilitate search.
---
Search Results: CBE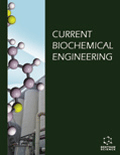 Current Biochemical Engineering
ISSN: 2212-7119 (Print)
eISSN: 2212-712 (Online)
Current Biochemical Engineering, is a peer-reviewed journal, publishing expert review articles, original research articles and guest edited issues on all the major advances in biochemical engineering. The journal serves as a forum on current biochemical engineering applications which are of use in the food, pharmaceutical, biotechnology, and water treatment industries.
---