To find the most relevant journal, please insert appropriate keyword to facilitate search.
---
Search Results: CCADD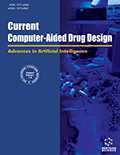 Current Computer-Aided Drug Design
ISSN: 1573-4099 (Print)
eISSN: 1875-6697 (Online)
Current Computer-Aided Drug Design aims to publish all the latest developments in drug design based on computational techniques. The field of computer-aided drug design has had extensive impact in the area of drug design. Current Computer-Aided Drug Design is an essential journal for all medicinal chemists who wish to be kept informed and up-to-date with all the latest and important developments in computer-aided methodologies and their applications in drug discovery. Each issue contains a series of timely, in-depth reviews, original research articles and letter articles written by leaders in the field, covering a range of computational techniques for drug design, screening, ADME studies, etc., providing excellent rationales for drug development.
---