To find the most relevant journal, please insert appropriate keyword to facilitate search.
---
Search Results: CDTH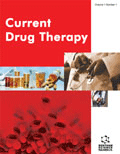 Current Drug Therapy
ISSN: 1574-8855 (Print)
eISSN: 2212-3903 (Online)
Current Drug Therapy publishes frontier reviews of high quality on all the latest advances in drug therapy and drug clinical trial studies and guest edited thematic issues covering: new and existing drugs, therapies and medical devices. The journal is essential reading for all researchers and clinicians involved in drug therapy.
---