To find the most relevant journal, please insert appropriate keyword to facilitate search.
---
Search Results: CGT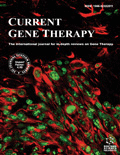 Current Gene Therapy
ISSN: 1566-5232 (Print)
eISSN: 1875-5631 (Online)
Current Gene Therapy is a bi-monthly peer-reviewed journal aimed at academic and industrial scientists with an interest in major topics concerning basic research and clinical applications of gene and cell therapy of genetic diseases. Cell therapy manuscripts can also include application in non-genetic diseases when cells have been genetically modified. Current Gene Therapy publishes reviews and original research on the latest developments in gene transfer and gene expression analysis, vector development, cellular genetic engineering, animal models and human clinical applications of gene and cell therapy for the treatment of genetic diseases. Current Gene Therapy publishes reviews and original research containing experimental data on gene and cell therapy. The journal also includes manuscripts on technological advances, ethical and regulatory considerations of gene and cell therapy. Reviews should provide the reader with a comprehensive assessment of any area of experimental biology applied to molecular medicine that is not only of significance within a particular field of gene therapy and cell therapy but also of interest to investigators in other fields. Authors are encouraged to provide their own assessment and vision for future advances. Reviews are also welcome on late breaking discoveries on which substantial literature has not yet been amassed. Such reviews provide a forum for sharply focused topics of recent experimental investigations in gene therapy primarily to make these results accessible to both clinical and basic researchers. Manuscripts containing experimental data should be original data, not previously published.
---