To find the most relevant journal, please insert appropriate keyword to facilitate search.
---
Search Results: CMIC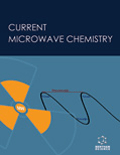 Current Microwave Chemistry
ISSN: 2213-3356 (Print)
eISSN: 2213-3364 (Online)
Current Microwave Chemistry is an international peer-reviewed journal that publishes important contributions describing advances in the use of the microwave in the fields of chemistry, biology, medicine, biomedical science, and engineering. The journal covers microwave-assisted synthesis of novel organic, organometallic and inorganic molecules or complexes, kinetics and mechanistic studies of microwave-induced chemical reactions and potential use of microwave irradiation in the fields of drug discovery, green chemistry, catalysis and industrial process development. It is the premier source of microwave related information for chemists, biologists, pharmacologists and engineers in both industry and academia.
---