To find the most relevant journal, please insert appropriate keyword to facilitate search.
---
Search Results: CMP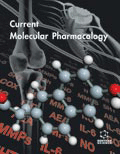 Current Molecular Pharmacology
ISSN: 1876-1429

Current Molecular Pharmacology aims to publish the latest developments in cellular and molecular pharmacology with a major emphasis on the mechanism of action of novel drugs under development, innovative pharmacological technologies, cell signaling, transduction pathway analysis, genomics, proteomics, and metabonomics applications to drug action. An additional focus will be the way in which normal biological function is illuminated by knowledge of the action of drugs at the cellular and molecular level. The journal publishes full-length/mini reviews, original research articles and thematic issues on molecular pharmacology. Current Molecular Pharmacology is an essential journal for every scientist who is involved in drug design and discovery, target identification, target validation, preclinical and clinical development of drugs therapeutically useful in human disease.
---