To find the most relevant journal, please insert appropriate keyword to facilitate search.
---
Search Results: CPPS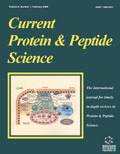 Current Protein & Peptide Science
ISSN: 1389-2037 (Print)
eISSN: 1875-5550 (Online)
Current Protein & Peptide Science publishes research articles and full-length/mini review articles on specific aspects involving proteins, peptides, and interactions between the enzymes, the binding interactions of hormones and their receptors; the properties of transcription factors and other molecules that regulate gene expression; the reactions leading to the immune response; the process of signal transduction; the structure and function of proteins involved in the cytoskeleton and molecular motors; the properties of membrane channels and transporters; and the generation and storage of metabolic energy. In addition, reviews of experimental studies of protein folding and design are given special emphasis. Manuscripts submitted to Current Protein and Peptide Science should cover a field by discussing research from the leading laboratories in a field and should pose questions for future studies.
---