To find the most relevant journal, please insert appropriate keyword to facilitate search.
---
Search Results: CPSP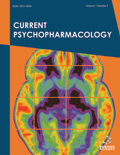 Current Psychopharmacology
ISSN: 2211-5560 (Print)
eISSN: 2211-5579 (Online)
Current Psychopharmacology publishes peer-reviewed expert reviews, original research articles and single topic guest edited issues on all aspects of pre-clinical and clinical research in psychopharmacology. The journal aims to be the leading forum for expert review articles in the field. The journal also accepts high-level original research articles on outstanding topics of preclinical and clinical psychopharmacology. Data must be published for the first time in Current Psychopharmacology.
---