To find the most relevant journal, please insert appropriate keyword to facilitate search.
---
Search Results: CRP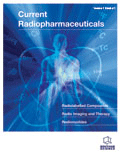 Current Radiopharmaceuticals
ISSN: 1874-4710 (Print)
eISSN: 1874-4729 (Online)
Current Radiopharmaceuticals publishes original research articles, letters, reviews, drug clinical trial studies and guest edited issues on all aspects of research and development of radiolabelled compound preparations. The scope of the journal covers the following areas: radio imaging techniques, therapies; preparation and application of radionuclide compounds including the incorporation of tracer methods used in scientific research and applications.
---