To find the most relevant journal, please insert appropriate keyword to facilitate search.
---
Search Results: ENG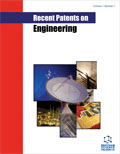 Recent Patents on Engineering
ISSN: 1872-2121 (Online)
eISSN: 2212-4047 (Print)
Recent Patents on Engineering publishes review and research articles, and guest edited thematic issues on recent patents in the field of engineering. A selection of important and recent patents on engineering is also included in the journal. The journal is essential reading for all researchers involved in engineering sciences.
---