To find the most relevant journal, please insert appropriate keyword to facilitate search.
---
Search Results: MICRORNA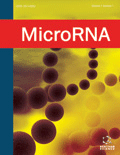 MicroRNA
ISSN: 2211-5366 (Print)
eISSN: 2211-5374 (Online)
MicroRNA publishes letters, full-length research, review articles, drug clinical trial studies and thematic issues on all aspects of microRNA (miRNA) research. The scope of the journal covers all experimental miRNA research and applied research in health and disease, including therapeutic, biomarkers, and diagnostic applications of MiRNA.
---