To find the most relevant journal, please insert appropriate keyword to facilitate search.
---
Search Results: MNS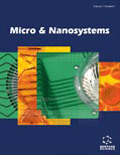 Micro and Nanosystems
ISSN: 1876-4029 (Online)
eISSN: 1876-4037 (Print)
Micro and Nanosystems publishes significant original work, topical reviews and guest edited issues ranging from technologies and systems to product innovation and new manufacturing processes with features at the micro and nanoscale. Applications for micro and nanosystems in areas such as health, environment, food, security and consumer goods are covered. The topics to be addressed include lab-on-a-chip, microfluidics, nano-biotechnology, micro and nanomanufacturing, printed electronics and MEMS.
---