To find the most relevant journal, please insert appropriate keyword to facilitate search.
---
Search Results: RACSC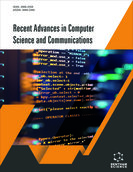 Recent Advances in Computer Science and Communications
ISSN: 2666-2558 (Print)
eISSN: 2666-2566 (Online)
Recent Advances in Computer Science and Communications publishes full-length/mini reviews, research articles and guest edited thematic issues reporting theoretical and experimental advances as well asrecent patents in all areas of computer science and communications. A selection of important and recent patents on computer science is also included in the journal. The journal is essential reading for all researchers involved in computer science and in the general areas of communications. Topics of interest include but are not limited to computer graphics, artificial intelligence, cybernetics, hardware architectures, software, modulation, signal design, and detection, information theory with application to communications, cognitive radio, physical layer security, cross-layer design and networking, current and future communication systems such as 4G, 5G, WiFi, etc. The journal also covers recent research (where patents have been registered) in fast emerging computation methods, bioinformatics, medical informatics, theory and methods involved and related to computer science and communications.
---