To find the most relevant journal, please insert appropriate keyword to facilitate search.
---
Search Results: ccat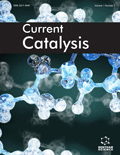 Current Catalysis
ISSN: 2211-5447 (Print)
eISSN: 2211-5455 (Online)
Current Catalysis is an international peer-reviewed journal, which publishes original research, expert reviews and thematic issues in all core areas of catalysis including theoretical, experimental and applied research. The scope includes heterogeneous catalysis, homogeneous catalysis, bio-catalysis, synthesis and properties of new catalysts including synthesis and catalytic function of novel inorganic solids and complexes, studies that relate catalytic function to fundamental chemical processes in metal complexes and at surfaces, novel concepts in surface chemistry.
---