To find the most relevant journal, please insert appropriate keyword to facilitate search.
---
Search Results: ccs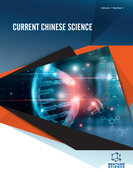 Current Chinese Science
ISSN: 2210-2981 (Print)
eISSN: 2210-2914 (Online)
Current Chinese Science publishes original research articles, letters, case reports, reviews/mini-reviews and guest edited thematic issues in various disciplines focused largely on science in China, while contributions from abroad are also welcome. Current Chinese Science is not limited to a specific field but instead covers all major fields of science, technology, and medicine.
---