To find the most relevant journal, please insert appropriate keyword to facilitate search.
---
Search Results: cgs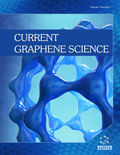 Current Graphene Science
ISSN: 2452-2732 (Online)
eISSN: 2452-2740 (Print)
Current Graphene Science is peer-reviewed multi-disciplinary journal that covers fundamental and applied research in various areas related to graphene science, including all important recent developments in chemistry, physics, bioscience, materials science, nanotechnology and engineering. The journal publishes research articles, short communications, mini-reviews and full reviews on materials based on the graphene structure including synthesis, production, structural modification, spectroscopy, optical, electrical, thermal and mechanical properties, growth, fabrication, industrial processing technologies, quantum mechanics, spin transport and all other aspects concerned with basic and applied research in the field of graphene science.
---