To find the most relevant journal, please insert appropriate keyword to facilitate search.
---
Search Results: cis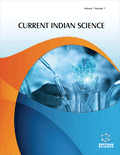 Current Indian Science
ISSN: 2210-299X

Current Indian Science is an open-access journal and it publishes original research articles, letters, case reports, reviews/mini-reviews, editorials, commentaries, perspectives, letters to the editor, and guest-edited thematic issues in various disciplines of science. Current Indian Science is not limited to a specific field but instead covers all major fields of science, technology, information technology, agricultural sciences, earth sciences, and medicine.
---