To find the most relevant journal, please insert appropriate keyword to facilitate search.
---
Search Results: cmc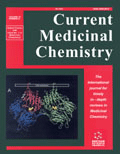 Current Medicinal Chemistry
ISSN: 0929-8673 (Print)
eISSN: 1875-533X (Online)
Current Medicinal Chemistry covers all the latest and outstanding developments in the field of medicinal chemistry. It also includes topics related to quantitative structure-function relationships, drug absorption, drug distribution, drug metabolism, new and emerging drug targets, pharmacogenomics, drug discovery toxicology, high-throughput screening, combinatorial chemistry, structural characterization and organic syntheses of naturally occurring compounds, as well as chemical and analytical techniques used in rational drug design. Each issue incorporates a series of timely in-depth/mini-reviews and guest-edited thematic issues written by leaders in the field covering a range of the current topics in medicinal chemistry. The journal also publishes reviews on recent patents.
Current Medicinal Chemistry is an essential journal for every medicinal chemist who wishes to be informed and up-to-date with the latest and most important developments relevant to their field.
---