To find the most relevant journal, please insert appropriate keyword to facilitate search.
---
Search Results: cnanom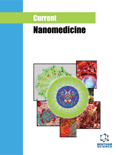 Current Nanomedicine
ISSN: 2468-1873 (Online)
eISSN: 2468-1881 (Print)
Current Nanomedicine publishes reviews, research articles and guest edited thematic issues in the field of nanomedicine. The journal is essential reading for all academic, industrial and clinical researchers who wish to be kept informed about important breakthroughs in nanomedicine.
---