To find the most relevant journal, please insert appropriate keyword to facilitate search.
---
Search Results: cnf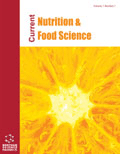 Current Nutrition and Food Sciences
ISSN: 1573-4013 (Print)
eISSN: 2212-3881 (Online)
Current Nutrition & Food Science publishes frontier research on advances in food and nutrition pertaining to their nutrition value, their impact on health and disease and their molecular and biochemical actions. The journal aims to publish high quality original research and review articles, and thematic issues. The journal is essential reading for all nutrition and food scientists.
---