To find the most relevant journal, please insert appropriate keyword to facilitate search.
---
Search Results: dml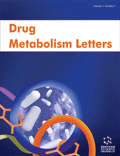 Drug Metabolism Letters
ISSN: 1872-3128 (Print)
eISSN: 1874-0758 (Online)
Drug Metabolism Letters publishes letters, original research articles, mini-reviews, thematic issues based on mini-reviews and letters, commentaries, technical notes and drug clinical trial studies on major advances in all areas of drug metabolism and disposition. In vitro systems including CYP-450; enzyme induction and inhibition; drug-drug interactions and enzyme kinetics; pharmacokinetics, toxicokinetics, species scaling and extrapolations; P-glycoprotein and transport carriers; target organ toxicity and interindividual variability; drug metabolism and disposition studies; extrahepatic metabolism; phase I and phase II metabolism; bioactivation; recent developments for the identification of drug metabolites, reactive intermediate and glutathione conjugates.
---