To find the most relevant journal, please insert appropriate keyword to facilitate search.
---
Search Results: eeng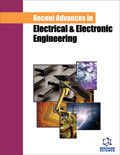 Recent Advances in Electrical & Electronic Engineering
ISSN: 2352-0965 (Print)
eISSN: 2352-0973 (Online)
Recent Advances in Electrical & Electronic Engineering publishes full-length/mini-reviews and research articles along with guest-edited thematic issues on electrical and electronic engineering and applications. The journal also covers research on fast emerging applications of electrical power supply, electrical systems, power transmission, electromagnetism, microelectronics, electronic components and materials, microwave technology, motor and generator control process, and technologies involved and related to electrical and electronic engineering. Articles related to the conduction of electricity through semiconducting and superconducting materials are also included. The journal is essential reading for all researchers in the field of electrical and electronic engineering science.
---