To find the most relevant journal, please insert appropriate keyword to facilitate search.
---
Search Results: emiddt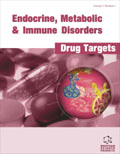 Endocrine, Metabolic & Immune Disorders - Drug Targets
ISSN: 1871-5303 (Print)
eISSN: 2212-3873 (Online)
This journal is devoted to full-length/ mini-reviews and original articles based on experimental and clinical studies in the field of endocrine, metabolic, and immune disorders. Specific emphasis is placed on humoral and cellular targets for natural, synthetic, and genetically engineered drugs that enhance or impair endocrine, metabolic, and immune parameters and functions. Moreover, the topics related to the effects of food components and/or nutraceuticals on the endocrine-metabolic-immune axis and on microbiome composition are welcome. The journal's scope also covers neuroendocrinology, reproductive endocrinology, hormone secretion, and their effects on different organs.
---