To find the most relevant journal, please insert appropriate keyword to facilitate search.
---
Search Results: fcs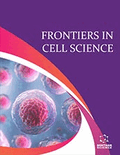 Frontiers in Cell Science
ISSN: 2772-6215 (Print)
eISSN: 2772-6223 (Online)
Frontiers in Cell Science is an international peer-reviewed journal in the field of cell sciences for the benefit of the biological community. Frontiers in Cell Science is committed to publishing the full range of topics in cell sciences. The single most important criterion for acceptance is scientific excellence. Frontiers in Cell Science aims to cover all the latest and outstanding developments in integrative cell science. Each issue of the journal includes timely in-depth/mini reviews, original research articles and letters written by leaders in the field, covering a range of current topics in scientific areas of cell biology, molecular biology, biochemistry, genetics, physiology and clinical aspects. Invited and unsolicited review articles are welcome. Articles will include those that pose and test a significant hypothesis that will provide novel perspectives and approaches to understanding cell sciences, and will stimulate the interest of the broad readership of the journal. The journal encourages contributions describing researches related to cell metabolism, cell communication, cell signaling, cell cycle, proliferation, apoptosis, and cell composition, including research in biomedical fields such as cancer, and other diseases. Research in cell sciences is also interconnected to other fields such as genetics, molecular genetics, physiology, cellular biochemistry, molecular biology, medical microbiology, immunology, and cytochemistry. Cell, tissue and organoid DNA/protein engineering and processing Synthetic biotechnology Cell omics (genomics, proteomics, metabolomics and systems biology) Therapeutic biotechnology (gene therapy, peptide inhibitors, enzymes) Drug delivery and cell targeting Nanobiotechnology in cells Molecular pharmaceutics and molecular pharmacology in cells Analytical biotechnology (biosensing, advanced technology for detection of bioanalysis) Applied microbiology Bioinformatics (computational biopharmaceutics and modeling) in cells Regenerative medicine (stem cells, tissue engineering and biomaterials) Translational immunology (cell therapies, antibody engineering, xenotransplantation) Cancer cells and translational oncology (cancer biology, targeting, gene therapy, cancer therapy, cancer drug development) Cells and environmental biotechnology Biosafety Biotech ethics Special Issues devoted to crucial topics, providing the latest comprehensive information on cutting-edge areas of research and technological advances, are welcome. Frontiers in Cell Science is an essential journal for academic, clinical, government and pharmaceutical scientists who wish to be kept informed and up-to-date with the latest and most important developments.
---