To find the most relevant journal, please insert appropriate keyword to facilitate search.
---
Search Results: mroc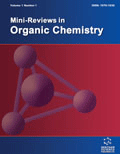 Mini-Reviews in Organic Chemistry
ISSN: 1875-6298 (Print)
eISSN: 1570-193X (Online)
Mini-Reviews in Organic Chemistry is a peer reviewed journal which publishes original reviews/mini reviews on all areas of organic chemistry including organic synthesis, bioorganic and medicinal chemistry, natural product chemistry, molecular recognition, and physical organic chemistry. The emphasis will be on publishing quality papers very rapidly, without any charges.
The journal encourages submission of reviews on emerging fields of organic chemistry including:
• Bioorganic Chemistry
• Carbohydrate Chemistry
• Chemical Biology
• Chemical Process Research
• Computational Organic Chemistry
• Development of Synthetic Methodologies
• Green Synthesis and Microwave Synthesis
• Functional Organic Materials
• Heterocyclic Chemistry
• Hydrocarbons
• Macromolecular Chemistry
• Natural Products Isolation And Synthesis
• New Synthetic Methodology
• Organic Reactions
• Organocatalysis
• Organometallic Chemistry
• Theoretical Organic Chemistry
• Polymer Chemistry
• Stereochemistry
• Structural Investigations
• Supramolecular Chemistry
---