To find the most relevant journal, please insert appropriate keyword to facilitate search.
---
Search Results: raddf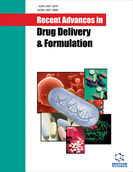 Recent Advances in Drug Delivery & Formulation
ISSN: 2667-3878 (Print)
eISSN: 2667-3886 (Online)
Recent Advances in Drug Delivery and Formulation publishes editorials, mini-reviews, full-length research and review articles, and short technical notes from academia, industry, and regulatory agencies worldwide. The journal's scope covers topics related to preformulation, formulation development, manufacturing technologies, biopharmaceutics, and regulatory science of both small molecules and biomolecules. These areas include, but are not limited to pharmaceutical nanotechnology, quality by design and process analytical technology, biosimilars and biowaivers, simulation modeling. The journal also publishes guest-edited thematic issues by eminent scientists on current topics that are timely and relevant for both industry and academia. Journal's ambition is to serve as a means for the dissemination of current fundamental and innovative science including regulatory aspects and stimulate the development of innovative technologies and products for various applications in pharmaceutical sciences and biotechnology.
---