To find the most relevant journal, please insert appropriate keyword to facilitate search.
---
Search Results: toaidj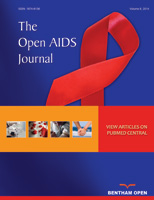 The Open AIDS Journal
ISSN: 1874-6136

The Open AIDS Journal
is an Open Access journal, which publishes peer reviewed research articles, reviews and letters in the diverse field of HIV/AIDS. The journal covers recent studies on experimental, clinical, translational, social, epidemiological and behavioral aspects, along with therapeutics, pathogenesis, vaccines, drug resistance, prevention of HIV/AIDS, and search for diagnostics, cure and virology of HIV/AIDS. Original articles on animal models for AIDS treatment research are also included.
The Open AIDS Journal
is an important and reliable source of current information on important developments in the field. Emphasis is placed on publishing quality papers, making them freely available to researchers worldwide.
---