To find the most relevant journal, please insert appropriate keyword to facilitate search.
---
Search Results: tobiotj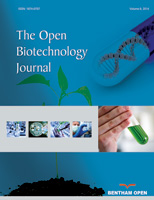 The Open Biotechnology Journal
ISSN: 1874-0707

The Open Biotechnology Journal
is an Open Access journal, which publishes research articles, reviews and letters in all core areas of biotechnology including basic and applied research e.g. molecular engineering of nucleic acids and proteins, molecular therapy, imaging technology and large scale biology, regenerative medicine, analytical biotechnology, food and agricultural biotechnology and environmental biotechnology.
The Open Biotechnology Journal
, a peer-reviewed journal, is an important and reliable source of current information on developments in the field. Emphasis is placed on publishing quality papers, making them freely available to researchers worldwide.
---